Earthworks & Enabling Contracts
Muck Away & Waste Disposal
Soil Remediation & Validation
Muck Away & Waste Disposal • Demolition • Earthworks & Enabling Contracts • Haulage • Plant Hire • Soil Remediation & Validation
Call us now on 01293 617014
Client: Southdown Estates (Nyetimber)
Site: Basement Excavation, West Chiltington

Project Overview
Demolition Site clearance, remediation, basement excavation and landscaping.
Project Considerations
Nyetimber, the award winning English wine producer, as part of their ambitious expansion plan have commissioned the construction of a new processing plant West Chiltington costing ten million pounds overall.
The enabling works included the demolition of three large industrial units which was undertaken by our company demolition division.
The ground remediation required the first 750mm of soil on site to be carefully graded sorted through with our fully trained category B wearing full asbestos PPE in attendance to pick out the asbestos debris, the soil and sub formation was then re tested to confirm there was no further contamination and a validation report issued.
Upon completion of the remediation the basement excavation was set out, 40000m3 of soil and underlying rock was to be excavated and transported to the permanent landscape area 700 metres distance away. 4000m3 of topsoil from the landscape area was removed and placed in stock piles for replacement upon completion of the filling.
The basement was excavated with an 30 tonne excavator, 3 dump trucks with the arising soil being placed by our Caterpillar D6R LGP dozer. Approximately 1000m3 of sand stone rock was broken out from the base of the excavation with a 20 tonne excavator and the material also placed in the landscape area.
Upon completion of the excavation the complete landscape area was graded and trimmed, topsoil replaced and then grass seed applied.
Scope of Works 
Demolition of three large industrial units
Soil remediation
Concrete recycling
Basement excavation
Placement of fill to landscape area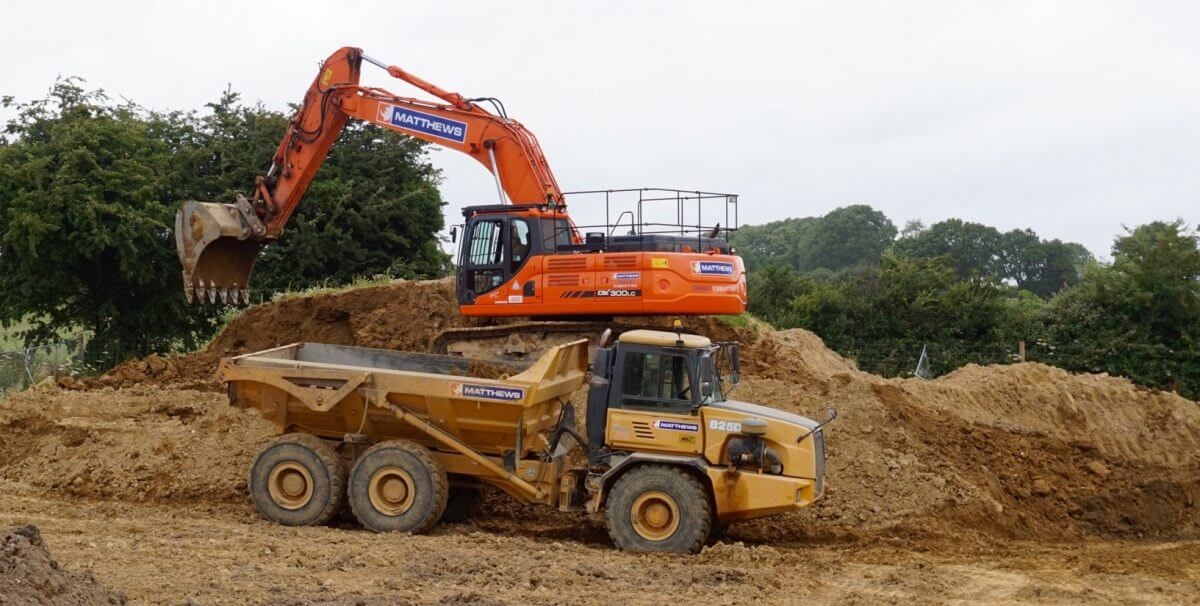 Call us now on 01293 617014 to discuss a project
Click below to view more Recent Projects